This post covers my thoughts on our BrazilJS booth experience. Our booth is always one of the most popular ones at BrazilJS, not only because it has free coffee but also because it has a really engaging team and activities, in this brief post I will list some of the sucessful actions that the community team present at the event took that could be replicated elsewhere.
What is your dream for the Web?
Our booth rear (and only) wall was made of glass panes that formed the Firefox logo. Juliana from the Altos Eventos crew had an idea to bring bright permanent markers and decorate the glass. This idea evolved into an call to action for the conference attendees: "What is your dream for the Web?".
This call to action was spread on our social networks and also word of mouth as attendees visited our booth. It was pretty sucessful and in the end we had a very livelly wall with different languages and messages. This action brought attendees and Mozilla together in their shared dreams for the Web. I believe this should be replicated in community oriented events as it brings a playful tone to otherwise boring corporate booths.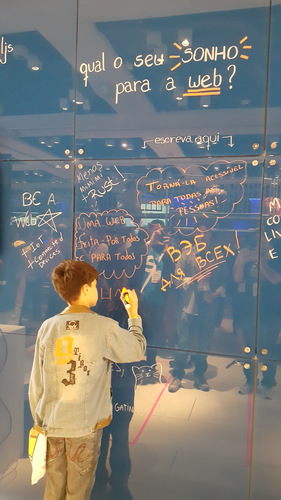 Engaging in meaningful personal relationships
We had a very diverse group with people from different backgrounds and specialties. Another important aspect was that we had people that were active in different functional areas of Mozilla so as attendees engaged with us on informal chats, we could direct them to other community members who shared similar interests. This way, the attendees often talked to more than one community members and established personal relationships with them which is a different way of working than delivering sales or corporate pitches like many booths do.
Key to this was learning more about who the attendees were and where their interests lie and then finding some common ground at one Mozilla functional area or project where they could learn more or be active. Establishing personal relationsips during conferences is one of the most effective ways of getting new contributors.
On a more personal level, I made a little webapp for my personal use that allowed me to send quick emails with prewritten content on topics that we were covering at BrazilJS. So as I chatted with attendees, I could with a couple clicks on my smartphone fire them an email full of links and info which also allowed them to have my personal email account if they want to reach out for more contact. Using this app allowed me to reduce friction in sending information out and sharing contacts.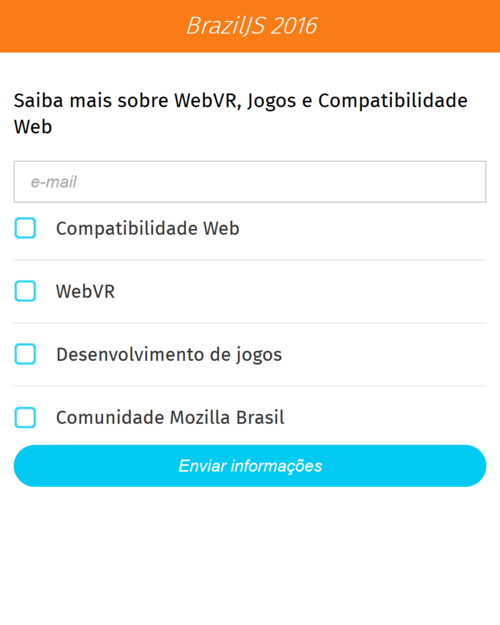 Virtual Reality and amazing selfies
One of our community members, Gabriel, who is in the Mozilla TechSpeakers program created a webapp for taking selfies with the Mozilla branding. A laptop with a webcam was positioned near the WebVR demo area so that the facilitators could take a selfie of the attendees who were undergoing the VR demo. This was very popular with attendees, as they all wanted a photo of them with VR gear.
I believe this is an awesome idea to be replicated in all events where we are doing VR demos. As attendees share their photos with the VR gear, the Mozilla brand is also spread.
A game of beacons
Adriano Cupello, another Mozilla TechSpeaker and Andre Natal, Mozilla employee had an idea of using bluetooth beacons for marketing actions. Along with the rest of the local team (including volunteers and staff members), they devised a series of actions that were extremelly sucessful.
They used codemoji to craft cyphered messages that were spread using the beacon. Tips for finding the cypher key were then sent over social networks. Attendees engaged with this impromptu game during the conference and the idea evolved to a series of quizes that were always shared over the beacon. Each quiz question was related to some Mozilla topic that was being covered in the conference and speakers Helen and Mike also contributed with quizes questions from their sessions thus making the attendees engage with our session topics after the sessions.
This game was played throughout the conference and swag was distributed to the winners. This was extremelly popular and attendees started following our hashtags, messages and the links we shared.
One important aspect of this was that on the first day, a very young team from a school for talented children won the first codemoji quiz. They were engaged with our community and we asked them to help devising the cypher quiz for the next day. This got them really hooked into helping our community and was a pretty powerful way of engaging with young contributors. As a part of their prize for winning the first quiz, they will have a future workshop on IoT with Andre Natal, which they are all excited for.
Coffee time
The most powerful attractor for attendees and conference organizers ever devised! The importance of our glorious coffee offerings cannot be underplayed. Long queues formed between sessions and this was a prime time for engaging with attendees while they waited for their coffee.
Having multiple recipes available added to the novelty of our booth, attendees shared their love for our coffee on their social networks, furthering our reach. This also meant that attendees were spending more time at our booth than at other booths thus maximizing our time with them.
A multi talented group
All this success was only possible due to the multi talented group present. Everyone there contributed to make this event one of our best performances ever. All our team of volunteers were fun, engaging and happy to help. This energy of having real Mozilla loving crew made our booth friendly and warm towards attendees. They might have approached us for the coffee but they stayed for the community.