I decided to make book reviews a thing for this blog, and from now on will try to review every single book I read. There is no better book to start this new trend than The Thursday Murder Club by Richard Osman.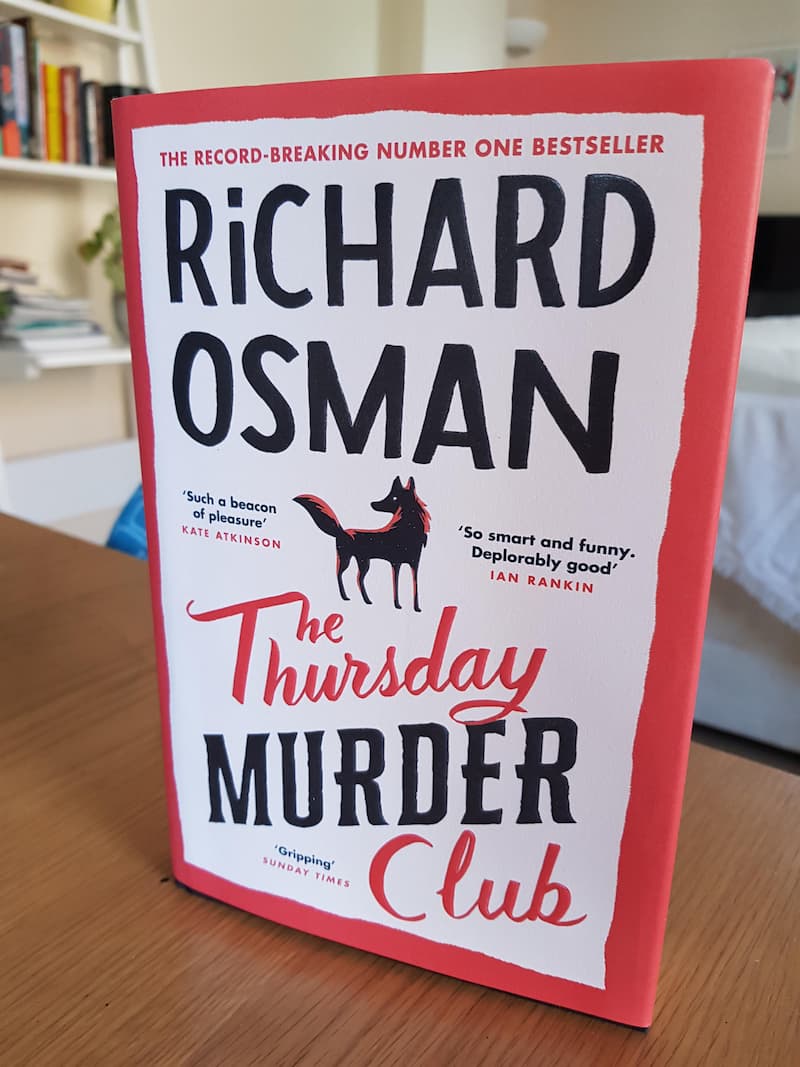 I grabbed this book because it was on the bestseller list and it had the following interesting facts about surrounding it:
It was a cosy mystery, and I've been reading multiple creative writing books about crime writing, so I wanted to read a modern cosy to see what they looked like.
It was a debut novel. I knew nothing about the author, and how he is a very famous TV host and comedian, all I knew (and cared) was that it was his first novel and people were raving about it.
That being said, I started reading it and was immediately hooked by the charming characters and quirky caricatures of britishness. As an immigrant to London, the myriad of little jokes about living in the UK really appealed to me.
I'm a Kobo Plus subscriber, which means that I get 1x audiobook credit per month, and somehow I decided to pick The Thursday Murder Club as an audiobook even though I already had it in hardcover. This is when the book evolved to a completely new level for me. Yes, reading it was fun, but it is my firm belief that this book was meant to be listened to instead of read. The narrator Lesley Manville is pure gold, and her work probably accounts for 50% of my enjoyment of the book. Her intonation, dramatic pauses, and tone, all of which further enhance the original text, make for a tremendous fun. If you're curious about this book, get the audiobook, I'm begging you, it is worth it.
Before writing this review, I decided to look online to see how this book was being received on Amazon, and I was a bit shocked about how many bad reviews Amazon chose to highlight on their site. The overall score still 4.5 out of 5, but most of the reviews shown for me were between 1 and 3 stars. This doesn't match my enjoyment of this book at all, and reading the criticism in those reviews just make me realise that taste is a very subjective thing.
Favourite Aspects
I enjoyed is how our amateur sleuths are all retired people. In most crime novels I've read the heroes are usually young or middle-aged hyper-competent people that are either brilliant or heroic. It is very refreshing to watch the pensioners of Cooper's Chase constantly outsmarting the other younger characters who time and time again underestimate them.
Another very positive thing is how the main device used for advancing and solving the plot is neither intelligence nor violence, but charm. It is through charming everyone around them—and with a healthy dose of intelligence, don't get me wrong—that The Thursday Murder Club moves fearlessly towards its conclusion. I think they charmed me as well.
The pacing is good for the tone and nature of this novel. I was never bored and it didn't feel like it was moving too fast.
Without any spoiler, I also really enjoyed the solution of the plot. I like how it fit together in the end.
The book tone is a bit bittersweet as our pensioners face the challenges of growing old and watching friends and lovers pass away. And yet, it is full of activity and movement because that bittersweetness is not an excuse for apathy, there are crimes to solve and secrets to uncover.
Elizabeth deserves a series of her own. She's a star.
Who should read it?
To be honest, I think this is a book for everyone. If you have any interest in crime stories, and is not averse to some cosy mystery, then pick this book up. Some jokes might be lost on those who have not lived in the UK, but I don't think this will spoil the enjoyment of the book.
A sequel will launch later this year, and I'm already looking forward to seeing the whole gang again.