I love stationary 😻
I'm not going to show my collection because that invites judgement 🤭 let's just say that one needs to spend time with physical things before they learn if that specific thing suits them well or not. I tried some popular notebooks and pens but they never clicked for me. I still have most of them, and will use them from time to time, but I wanted something for day to day use. Many people will opt for inexpensive things for their daily carry and there are various good reasons to do that beyond the simple let's save the good things for special occasions. I'm from a different opinion, the mindset that good tools invite usage, and that I'm more tempted to open my notebook and write things down when I enjoy the paper and pen.
Be aware that good tools don't mean expensive tools. My favourite pen: the pilot hi-tec-c is quite inexpensive. But, some of my favourites are a bit on the expensive side. My notebook journey passed through inexpensive favourites like Field Notes, to everyone's darling Hobonichi Techo, before finally landing on Traveller's Company Notebook systems.
What attracts me to Traveller's notebook is how flexible they are. It is a system of composable inserts, covers, and accessories. They can grow and change with you in a way that the Hobonichi Techo and other similar planners couldn't.
💭 "This is becoming a longer post than I originally envisioned. I just wanted to post pictures of my new notebook, but here I am, telling you a story…"
My original Traveller's notebook is a standard size with the camel cover. I have many inserts for it, and for 2022 I've setup it with:
a single dot grid notebook.
a cloth insert with zipper pocket and folder.
a plastic card file.
a clip to help me keep it open if I need to, or to attach things to it.
a pen loop.
This notebook has been the one that I use for brainstorming, plotting, and just trying to get my thoughts in order. I love the idea of journaling and keeping a diary, but I haven't been consistent with it and gave up. I'm thinking about adding another notebook to serve as a journal. I can fit two or three notebook inserts on it before it gets too bulky. Maybe just two because of the other inserts.
Anyway, a ton of Patchfox and my own books were planned using this notebook. I really like it. but there is a problem though. As you might have noticed, it the notebook is a tad to large for most pockets. This means I only carry it when I make the conscious decision to throw it in a bag. I favour small bags, so carrying it adds a lot of load to whatever I'm carrying, specially when you factor in my cute as hell pen case.
This means that when I want to pack light recently, I ended up picking some inexpensive book like a Field Notes and one or two pens and carrying them with me instead of my fancy journal. Which led to me writing less, because information was spread among too many little books.
I noticed that when I carried the larger notebook I was happier and more productive. I was still productive when I carried small notebooks of good quality and good pens, but those booklets are less flexible in the long run.
I was thinking about it as I self-isolated in Canterbury. I want my Traveller's Notebook, but in a smaller form-factor. Something that I can carry every day and adapt as my needs change.
Luckily, Traveller's Company makes a passport-size version of their notebook, and this what this post has been all about. I got a new passport-size Traveller's Notebook, and set it up similarly to the large one. This can fit in most of my pockets and bags with ease. I'm looking forward to having a walk today and maybe brainstorming a bit with some tea.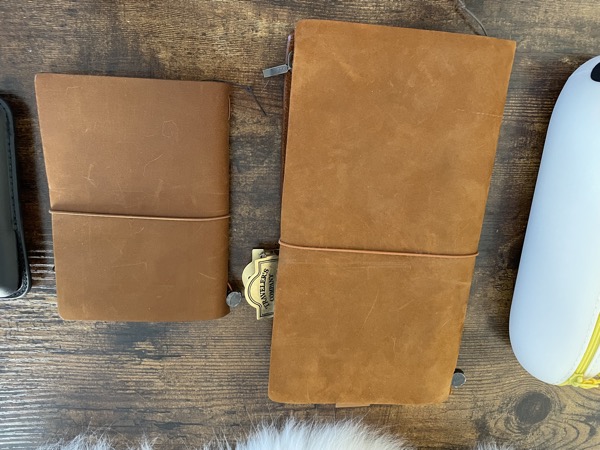 Oh, and to solve the pen case problem, I got a small Kaweco pouch that fits two pens from the Sport line. Kawecos are very easy to carry. Since I'm left-handed, I'm carrying the mechanical pencil and the rollerball.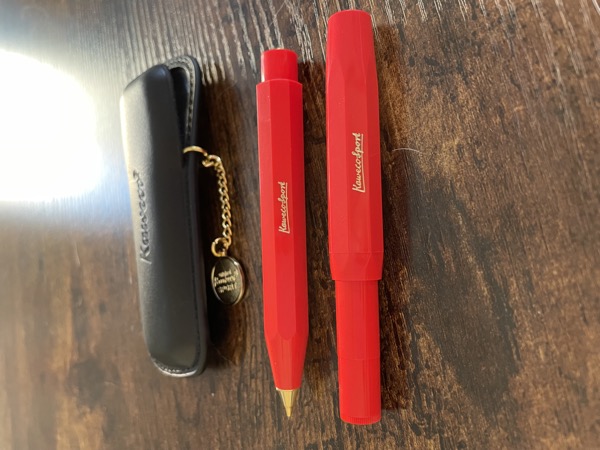 ✨ Enjoying a new Traveller's Notebook in passport size #travellersnotebook
✨ Enjoying a new Traveller's Notebook in passport size #travellersnotebook